So I experimented making two related foods: pita bread and hummus. The recipes linked are what I followed most closely, though I tend to do a survey of various recipes for a given item and get a feel for what they involve and have in common, and what might make good variants. It is worth noting that Triticale has an interesting hummus recipe that goes into the many possible variations.
Pictures are at the end of the post.
Pita is basically just one of the many forms of flatbread that seem common in wide swaths of the world. You start to see what the differences and commonalities are, but whether it's made with lard and salt water, milk and yeast, water and yeast, in the oven or on a pan, coated with egg yolk, clarified butter, oil, or nothing, it all starts with some form of flour and results in a more or less flat result that can be used to wrap or pick up food. Pita pocket bread is different in that it's commonly encouraged to puff up so there is a pocket when you're done. Perhaps it will work that way for me next time.
The result tasted awesome. We learned it does not keep long out in a zipper bag in the kitchen in summer. Next time
, we refrigerate, as you do with flour tortillas.
We had them with the hummus, but more so with butter, peanut butter, or honey. I even tried a little straight tahini on a pita chip. Tahini is essentially natural "peanut butter" made out of sesame seeds; sesame butter, if you will. It has a nutty flavor, and will make your mouth stick together worse than any peanut butter I ever tried. I'm convinced it mainly needs to be used in other foods, or with something else; perhaps tahini plus honey on a cracker or bread, for instance.
The dough turned out way too sticky. To work with the stuff at all, the rolled out dough was thick with flour on the outside. They were baked that way and it looked funny. This recipe called oil in the bowl in which the dough rises, such that the whole thing has a coating. Other recipes called for brushing a little oil on the rolled out pita before it baked. Afghanistan's variant of flat bread is essentially the same as pita bread, but you score it and brush it with egg yolk before baking.
So, next time the dough gets more flour or less water in it to keep it from being so sticky, and I'd be inclined to brush them with olive oil before baking.
Also, the oven needs to have more time than I gave it to warm up, and the higher the temperature, the better. The recipe says 500. I ended up at 550, and it's apparently traditional to do them in ovens that can be more like 700. The first batch was cooked, but just.
I did get some puffing. Any degree to which I was able or bothered to turn any of the result into pockets required a knife to insist that they open.
They were just plain tasty. The kids loved them. They also made pretty good chips. I cut one into little triangles and used top brown in the toaster oven to crisp them. That worked perfectly.
They were kind of a pain in some ways, but overall pretty easy.
Hummus is basically cooked, ground up chick peas, also called garbanzo beans, with some other stuff, most notably tahini. Most of the time you are using lemon juice, and I wish I'd had fresh. They also call for garlic. All the recipes I've seen call for canned beans, and I can see where that would be convenient. I just happened to have dry beans.
I used have the 16 oz package, quick soaking them as I would pinto beans. That is, put them in a pan of water, bring it to a boil, then immediately turn it off, let them soak and hour or more, then drain, add fresh water, and cook.
I used two cloves of chopped garlic. That was too much, without having used more lemon juice or something else to balance it.
When the beans are ready, you're basically running them through a blender or food processor to turn them and the other ingredients into dip-like paste. I used the cooking water from the beans as needed when it was too thick.
I departed from the recipe by adding a little red pepper and cumin from the spice cabinet. I also goofed and forgot to add the olive oil, which I should have remembered after looking at a variety of hummus recipes. It does work as an addition when serving, but the hummus would have been better with it added. Finally, I see it says to grind the chick peas, cool them, then add the rest. Oops. I was only half paying attention to the recipe.
Frankly, I am more interested in making pita bread again than in making hummus again, but Deb enjoyed it enough that it might be worth an experiment… with real lemon and more of it this time, and some other adjustments. The pita bread is just a nice variant to have for sandwich-like usage, it doesn't need the hummus as an excuse. Plus the kids loved the bread and hated the hummus, and there's pretty much nothing they don't eat.
Okay, here are the pictures. First, the beans cooking: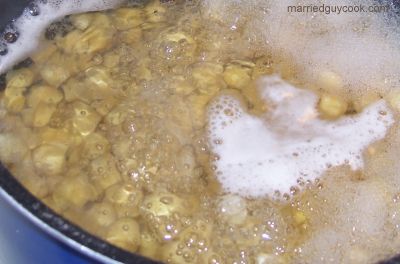 Hummus in the blender. I started with the food processor but it was both too small to hold it all at once, and surprisingly ineffective at complete and consistent choppage: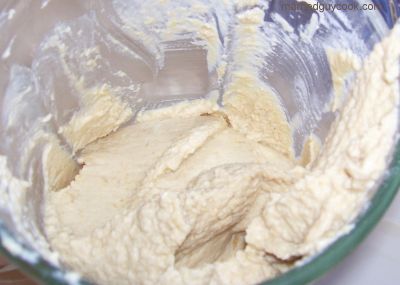 Hummus as served in a bowl, with a little olive oil and red pepper added: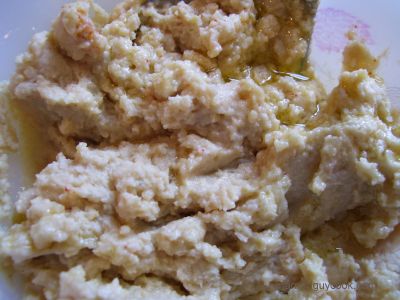 Now the pitas, starting with the dough, still there despite having risen: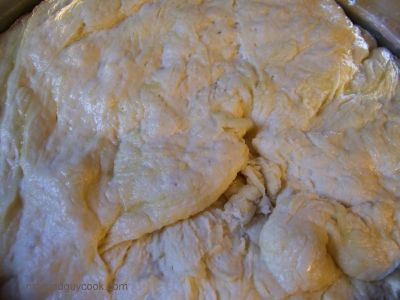 The dough after splitting it up. I made 13 of these, but might have been better to make no more than 10 and roll them a bit thicker: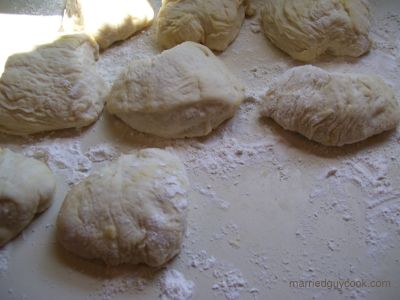 Uncooked pita dough, rolled and ready for the oven:
Pitas on the cookie sheet: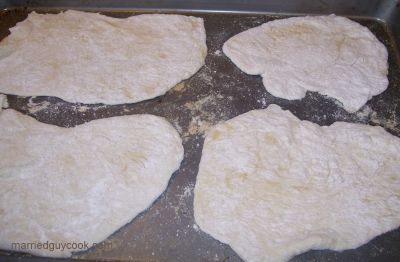 Stack of cooked pitas: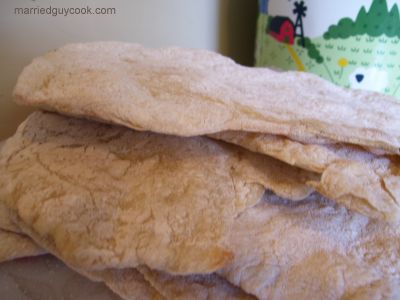 Pita chips: