Sharon has what sounds like a tasty and easy chili recipe, complete with actual measurements. I notice it doesn't call for chili powder, but you'll note that it includes all the components of chili powder: cumin, cayenne pepper, garlic and oregano. I also love cornbread with chili. Her post and the cold weather inspired me to make some last night, even if it is nontraditional with pasta and red sauce. The kids just love it, until they get full and merely turn it into tiny crumbs.
I made my version of chili the other day and meant to write about it, so I thought it was funny we were doing unplanned chili synchronization between households.
First a bit about history.
Once upon a time, I used to make what I call faux chili based on cheap cans of Campbell's Pork & Beans. Which isn't so odd, in that they are pinto beans in a tomato-based sauce, and chili seems to be made normally with pinto and/or kidney beans. I considered it both tasty and part of eating cheap, which will be the topic of another post Real Soon Now. Let's just say I didn't know from eating cheap, and didn't know at the time that cans of those beans on sale 3 or 4 to a dollar was not that cheap.
Back then, I'd cook up some pepper and onion if I had it, ground beef, toss in beans, season it mainly with chili powder, add some ketchup and a squirt of yellow mustard, add sugar or brown sugar as needed, and serve it to myself for 2 or 3 big meals. It was quite good. I believe I also used tomato paste at least sometimes.
Lately I've discovered the joys of dry beans, taking it back closer to scratch and being really cheap. When I knew I was spending my last cash for probably a couple weeks on stocking up groceries last week (except a little reserved for milk and a few other run-outs), knowing the rate we'd been using them and comparing the unit price, I bought a 64 oz. bag of pinto beans instead of the customary one or two 16 oz bags.
Dry beans require planning. You can't get to 5:00 or 6:00 and say "hey, let's have beans!" We put them in a pot of water, bring it to a boil, then turn them off and let the gassiness soak out of the beans for an hour or more before draining them and adding fresh water for the actual cooking.
At that point you have beans on their way to ready for whatever you mean to make. Heck, you could serve just beans with some butter, salt and pepper on them, the way my father loves shell beans. When I set out to make chili, I wasn't sure if it would be truly ready on time, and even if so, we would also want refried beans around in the next couple days for burritos.
I cooked 16 oz. of beans, 2 cups dry, and when they were cooked enough, I took two cups or so wet out of the pan, and some of the water as needed, for refried beans.
For the refried beans, I actually used a medium sauce pan. I threw in a generous chunk of butter (probably 3 tablespoons), cooked a handful of chopped fresh garlic, onion and green pepper, all of which are optional or could be replaced with dry seasonings. All you really need is beans, if you want nothing more than their yummy flavor. What I missed is an effective masher, and I'd not cooked the beans to the point of mush before splitting them for refried and chili.
When the flavoring veggies were cooked right (translucent onions, for instance), I threw in the beans, did a lot of smooshing and stirring as best I could, adding liquid as needed to keep them from being too stiff and dry to work with or to cook without burning. I also added I forget what else, but mainly cumin, not a lot, and possibly some red pepper, cilantro or oregano. The beans came out tasting mostly like beans, to give some idea; more enhanced than flavored. They were absolutely fantastic and got raves. We did indeed have burritos that night and let the chili simmer longer. It was interesting making two suppers at once, but a huge treat not cooking the second day.
The stiff texture of the beans made me picture making sandwiches based on them. I figured mix a small amount of finely shredded meat in with them, maybe use meat broth to imbue them with meat flavor, and there you'd have a serious meat stretcher or substitute. Which means I just reinvented the idea of falafel, sort of.
Back to the chili…
My new favorite thing to do is make chili not with expensive ground beef, but with the cheapest on sale beef, like top round for London broil at $1.69 or whatever. By comparison, I recently bought 90% ground beef and by buying it in a 6.67 lb package at BJ's got the remarkably low price of $2.29. Chili would be fine with the fattier ground beef, fortunately, but we normally buy and freeze one kind and use as needed, rather than running to the store specifically for a variant for a meal we decided to make.
I cut the beef into small chunks and add it to a frying pan with, optionally, stuff like chopped garlic, pepper and onion. I add spices to it, or to the butter before it goes in, including but not always celery flakes, cilantro, red pepper, black pepper, paprika, allspice, ginger, cumin, oregano, and chili powder. Without the real versions added, that would include garlic and onion. I basically stir regularly and cook until done, letting some of the juice cook off but keeping some.
If I ever remember, I will probably throw a small amount of vinegar in with the meat not long after it starts cooking.
In the meantime, I've thrown some chili powder and maybe other spices into the beans. Tomato-based stuff can go in before or after the meat. I normally use tomato paste, as small can, and ketchup, using more as needed later to adjust the flavor. Diced tomato, tomato soup, or whatever would work, depending what you have and what you like. The beauty of chili is it's highly variable and a matter of taste.
A little vinegar can be good, giving it added tang, especially if you are not using ketchup, or have too little ketchup on hand. I keep forgetting until the chili is well underway, and then this time I added too much. The small dribble turned into a good sized glug. It didn't ruin the chili, but it added more tang than I planned and needed to cook and soak in far longer to balance the flavor.
After everything is mixed together, it's just cook, stir, taste, adjust as needed. I normally throw in a not insignificant amount of brown and/or white sugar. I normally add more chili powder at least once, and perhaps other spices depending how strong the flavor seems. If you get it too spicy, it remains too spicy, but at least sugar tends to ease the bite.
What amounts to no more than 3/4 of a 16 oz. bag of beans and no more than 2 lbs of beef makes us two good meals. It can be served with shredded cheese, a dab of sour cream, tortilla chips, bread and butter, or corn bread as mentioned earlier. It can be made thinner or thicker. It can be made in greater or lesser proportions of beef to beans. It can be made hotter or milder. Whatever I start with, mine tends to come out in a particular taste range, frankly almost identical to the taste I used to achieve starting with Campbell's beans and owning a smaller variety of spices. I haven't tried it on hot dogs yet…
I actually have pictures off the camera in time to use them in the actual post. Some orphan pictures should follow today in their own post. I had some fun with raw ingredient or cooking stage pictures this time around, just plain trying to get interesting pictures.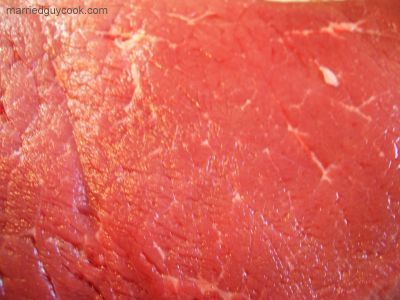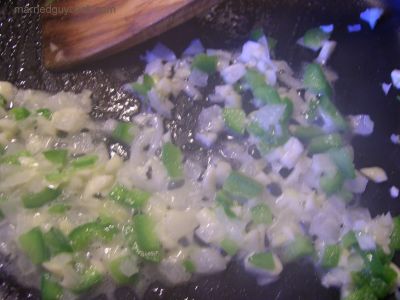 Partially cooked and then mostly done refried beans: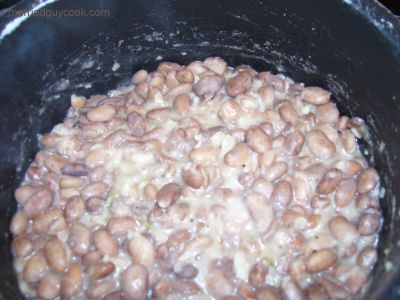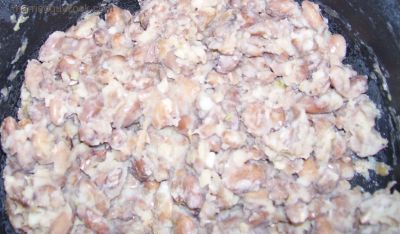 The chili, done or near the end: