I have to do some work that prevents me from posting further until later or tomorrow, unless I find I really need a break and a post fits that neatly. Meanwhile, I leave you with a pictorial (click each picture for larger version in new window if desired)…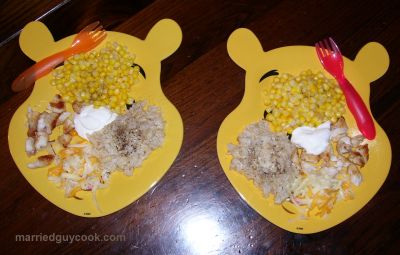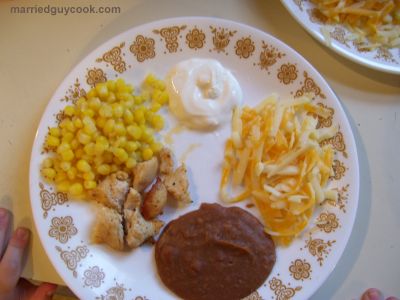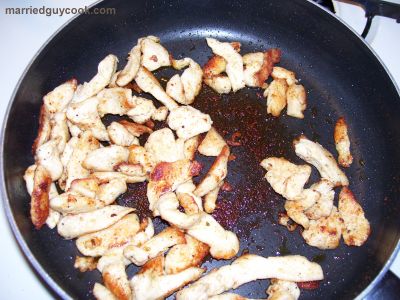 The three above relate to my burrito post. First, ingredients for chicken burritos made without refried beans, as laid out for consumption by the kids. Sadie eats it with a quarter flour tortilla on the side, and usually eats a second quarter too. She wraps meat or dips it in sour cream. Next, ingredients for the same thing, but with refried beans, amd corn rather than the usual lettuce and, for me and the kids if we have it, tomato. Finally, chicken cooked to go in burritos, as it appears in the frying pan.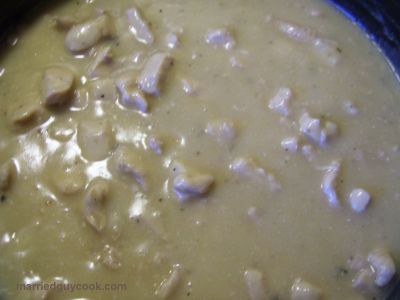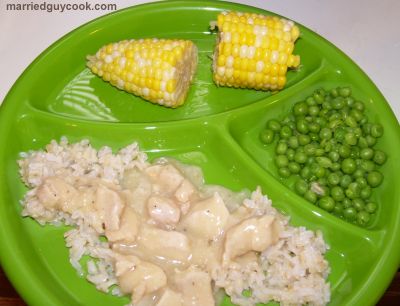 The above two are the chicken in gravy concoction I invented, as mentioned in this teaser post. First, in the pan, then in context as served over rice to one of the kids, with peas and our first of the season corn on the cob. Unlike when we serve us burritos and them burrito ingredients loose on a plate, we all ate it the same way. It would have been great on egg noodles or mashed potato, let alone as a pot pie filling with carrots and whatever.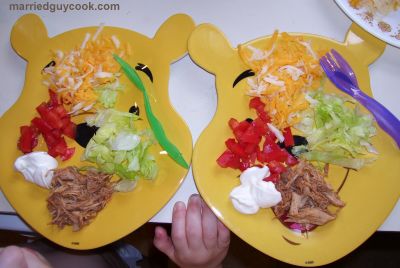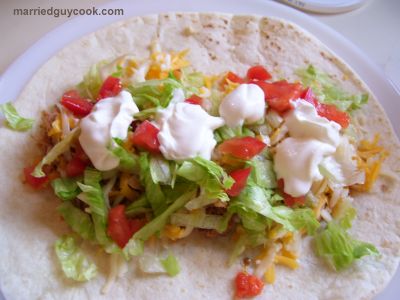 The above two also relate to the teaser post and should get their own post later. First, it's the ingredients for shredded pork tacos as served on plates for the kids. Then it's a shredded pork (soft) taco before being folded to eat. Pretty, huh? These were a big success, and great for using the crockpot for convenience and not having to think about spices because you're using a canned sauce. I'd like to try making my own variant sometime, seeing what I can do without the canned sauce. But I digress, and will get to this topic again later.