I partially answered my own squash question, finding a ton of zucchini recipes online.
So when I turned off the computer in deference to thunderstorms yesterday afternoon, I started experimenting ahead of when I would otherwise have started making supper. I decided to try making zucchini fritters, using two of the five at the linked page.
I didn't use any of these recipes, but I was intrigued by the pancakes, faux crab cakes, and Lucky Olive's Zucchini ideas there. I don't have any Old Bay seasoning, nor having I smelled or tasted it to my knowledge, so I'd have to wing it, combining the seasonings that are, in some proportion, a part of Old Bay. Which already sounds like something I'd come up with, except I seldom use the dry mustard in anything but Laurie's Spicy Chicken (which I may as well repost here, if Google is going to have such an insanely hard time locating the post).
I also thought zucchini enchiladas sounded intriguing, though it intrigued me as much that it didn't call for canned enchilada sauce, and could presumably be adapted to chicken, or a mix of chicken and veggie.
Anyway, I was mainly focused on the 4th fritter recipe, but I was intrigued by the 2nd one, as anything that calls for mint is so rare in my experience.
Here is the first recipe I used, as written, with points of concern in red:
3 cups of coarsely grated zucchini
2 large eggs, beaten
2 tablespoons of milk
2 teaspoons of all purpose flour
1 tablespoon of chopped fresh mint or
1 teaspoon of dried mint leaves

Place zucchini in colander; let drain 1 hour. In a large bowl, with a wire whisk, beat the eggs until they're frothy. Add remaining ingredients; whisk until blended. Stir in the zucchini, 1/2 teaspoon salt and 1/4 teaspoon freshly ground pepper. Preheat oven to 200ºF. In large skillet, over medium to high heat, heat 2 tablespoons salad oil. Spoon in fritters batter, using 1 tablespoon butter for each fritter, adding more oil as necessary. Cook 1 minute on each side, until golden brown. Keep warm, covered with aluminum foil, on platter in oven until ready to serve. Makes 6 servings.
First annotation, the flour; this seems to be too little. My proportions were off because I used one cup of zucchini but used a whole rather large egg, but if you compare to the later recipe, the minimalist amount of flour makes little sense. They came out almost custardy, with kind of a soggy texture. The mint flavor went poorly. It would be better simply to steam, boil, even roast or bake zucchini with mint.
I grated one zucchini, resulting in 3 1/3 cups to use. As noted, I decided to use a cup for the mint variant, interpreting 2+ cups as about right for the garlic, oregano and parm variant. Though in reality what I grated was little more than a medium zucchini, so you could interpret the second recipe as saying to use five or six cups.
The grated zucchini went into a colander that nested into a bowl so it could shed liquid, and I mixed in a fair amount of salt to aid that process, letting it sit quite a while.
Anyway, I beat an egg, added and beat in maybe a tablespoon of milk, a teaspoon of flour, a couple dashes of black pepper, and near half a teaspoon of dried mint. Flour by the teaspoon? Still sounds weird to me. Then I mixed in the zucchini thoroughly.
I used olive oil for frying; not very deep. One lesson is they could have used more oil. That second annotation I realized, after momentary confusion, that it was a typo of batter. It's not saying to add a tablespoon of butter for each fritter.
The modified recipe made four, nice and neat. They were thinner and runnier than the later ones, and I was surprised while they were still cooking as they seemed hesitant to get crispy. Getting Deb to eat zucchini is mainly about texture. That they came out like custard was no help, given that she disliked custard due to its texture.
You could eat them and live, but they were weird. I snacked down about one and a half, including a small piece I gave Sadie that sadly made her uninterested in trying the other kind later. She made a face and discarded it.
Not recommended. But I'd still love some ideas on what to make using mint, since I have a jar of it on the spice rack.
Here's the recipe as written for the other fritter variety I tried:
2 medium zucchini, unpeeled & shredded
1 cup of flour
2 beaten eggs
Salt to taste
Pepper to taste
1 teaspoon of oregano
1 clove minced garlic
1/4 cup of water
1/4 cup of Parmesan cheese

Combine and mix all ingredients. Mixture will be the consistency of pancake batter. Drop by tablespoonfuls into hot oil and fry until golden brown. Drain on paper towels.
I had two cups and a fraction of shredded zucchini, as mentioned, and I decided to treat that as the quantity correct for the recipe. Who's to say what "medium" means, after all.
, except it was Parmesan and Romano, rather than straight parm, and I used a little extra, and the clove of garlic was fairly large. I also added a dribble of extra water when I couldn't even mix the batter, it was so thick. I scoffed at the "consistency of pancake batter" part, but it was, for relatively thick values of pancake batter. The moisture in the zucchini saw to that.
I made the oil deeper for these, and they tended to be thicker. Used slightly higher heat and made sure they were cooked as crisp as could be expected.
Valerie ate three of the twelve the recipe made. Sadie didn't try them.
I thought they were tasty, maybe a bit strong on the garlic, but strong as it was, the oregano flavor shone through too.
We ate all twelve before and during dinner, despite having chicken, rice, summer squash and lima beans too.
I cooked the chicken in the same oil, figuring the flavor infused from the fritters would be a good base. I added a touch of garlic powder, red pepper, generous paprika, dash of ginger, celery salt, pinch of oregano, and some Italian seasoning. It was one of the tastiest batches of random chicken I've ever made.
I keep forgetting; I have pictures.
Plate of food for one of the kids, including part of a fritter: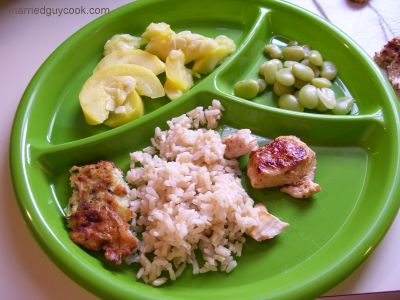 Shredded zucchini, ready for its closeup: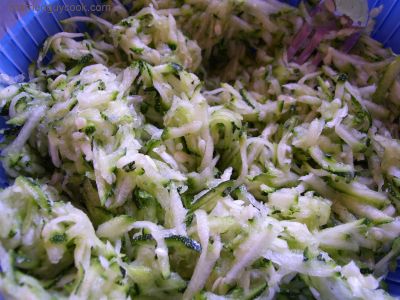 Mint zucchini fritters: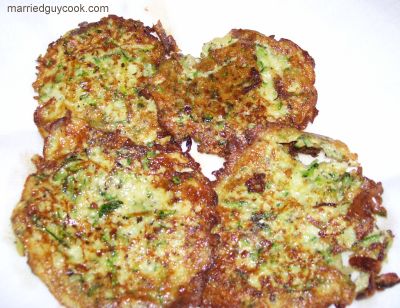 Garlic oregano parmesan zucchini fritters: